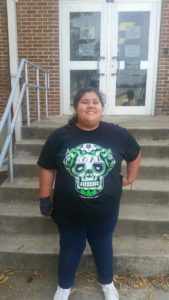 I just wanted to take the time to recognize Mia, an eighth grader at Calhoun Middle School in Denton, TX.
I met Mia when she was in sixth grade, and she struck me as a kid that didn't have a lot of respect for ANY authority figures. She consistently showed difficulty in following the law or just following rules in general. She was a very personable kid but generally just didn't feel like doing her work as she'd flat out refuse to work for her teachers. She's spent a good part of her 6th grade year in the Disciplinary Alternative Education Program (DAEP) and although she expressed interest in trying to do better, she basically repeated those same negative behaviors in 7th grade.
This year Mia has made a concerted effort to genuinely turn her behavior around. She expressed interest in joining the GOAL (Girls Operating As Leaders) program as a 7th grader but her negative behaviors didn't allow her to be a member of the club.
Not only has Mia joined GOAL this year, she has been one of the leaders of the program. She has consistently attended tutoring sessions to bring up her grades and is constantly providing a positive example for her younger classmates.
Mia isn't perfect and has had a few setbacks, but the difference between this year and the last couple of years is that she now accepts responsibility for her actions, holds herself accountable for those transgressions, and works diligently to rectify those issues. With the help of Communities In Schools and the support of the Calhoun Middle School staff, Mia can make the 2017-18 school year one to be extremely proud of. And if Mia can stay on this current path, I believe that the sky is the limit for her!