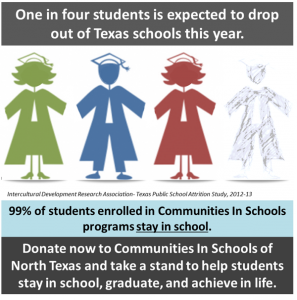 RIGHT NOW, thousands of students in North Texas are ready and waiting for help. Some need guidance and counseling, some need tutoring, some need the basic necessities to survive, such as food, clothing, and a safe place to stay. RIGHT NOW, these children are falling behind. The further behind they fall, the more at-risk they are of dropping out of school.
By supporting Communities In Schools of North Texas, you have already made a difference! Over the past 5 years, we have consistently achieved a 99% success rate of keeping students in school and on track for graduation! We are so grateful for your involvement!
RIGHT NOW, more than ever, we need your continued support. Donate today and help us eliminate our wait list and get these students on track towards success.  You can save a child's future today… why wait?
All donations are tax deductible. Click here to see all of our financials.
If you are a volunteer and would like to double your impact by financially matching your volunteer hours, click here to get started.
Donations may be mailed to:
Communities In Schools of North Texas
PO Box 295543
Lewisville, Texas 75029-5543
Contact us if you have a question about donating.