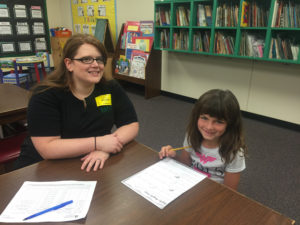 The beautiful aspect of mentoring with Communities In Schools is that you know your purpose and work towards it. Our ultimate goal is to see our students graduate, therefore it makes a huge and lasting impact when mentors continue meeting with their students from year to year.
Robin began mentoring Kaley last school year at Lake Dallas Elementary, and she did not waste any time in starting up again this year. Kaley was very excited to continue to meet with Robin. Kaley's teacher was just as excited because she knew Kaley would receive one-on-one help.
The pair are off to a great start, and it is thanks to Robin, who spends her lunch hour once a week to come to Lake Dallas Elementary from her full time job at DATCU Credit Union, for surrounding Kaley with a community of support, empowering her to stay in school and achieve in life.